How to Scrape a Website
More and more advanced Internet users ask us a question how to scrape a website. Let us try to understand what web scraping is and how to scrape a website with a great profit and faster than ever and which software or service to use for this purpose.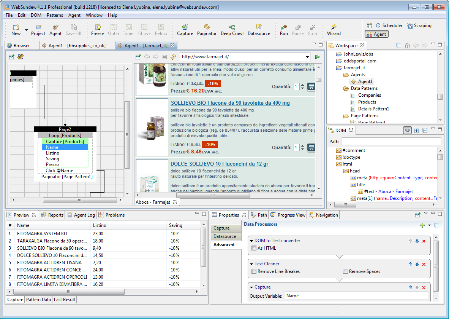 Web scraping is a process of collecting of different kind of text data and images (usually bad-structured or unstructured data) and storing it in the format you need (it can be Excel file as well as database MySQL, MSSQL, Oracle, etc.). Web scraping is widely used now by millions of people busy in e-commerce, retail, real estate, marketing, and other business fields. When you get some information on web scraping from the World Wide Web you're still wondering how to scrape a website you need. Don't worry, there're lots of software products and services nowadays which are designed to perform this task.
Let us take a closer look at WebSundew web data extraction tool. Our technical support employees know for sure how to scrape a website. First you need to select a target web site and then to decide which data you need (in most cases it is the product information like Name, Make, Model, Price or it can be property or business information like Name, Address, Phone Number, Geolocation). There is a tendency recently to extract even Google Maps directories for this or that business or property (place of interest, hotel) or many other things.
When all the preparatory work is done you can easily start with extracting. For this it is enough to run WebSundew web scraping program and set up an Agent which will perform all the necessary operations for you. It will visit all the web pages and extract data from the fields you had mentioned and then store the data into the Excel file or to the database. That is why we always say that extraction with WebSundew has never been easier. Do you sill have doubts how to scrape a website? Then just download and install WebSundew 15 days trial and try it yourself.
Page Modified 6/9/17 10:12 AM